You commit nearly $200,000 (not counting opportunity cost) for a two-year MBA program. Imagine, you struggle to land a job of choice after this investment!
Although this can happen to anyone, the chances of international students facing this is generally higher (relative to those with work authorization) at most schools, including the top ones. A vast majority of international MBA graduates want to work in the geography they graduate in, but because of issues such as visa, they face difficulties.
(Note: Admission policies of schools and guidelines for standardized tests can change. Refer to their website for the most updated information.)
Most common problems that make it difficult for organizations to recruit international MBA graduates are: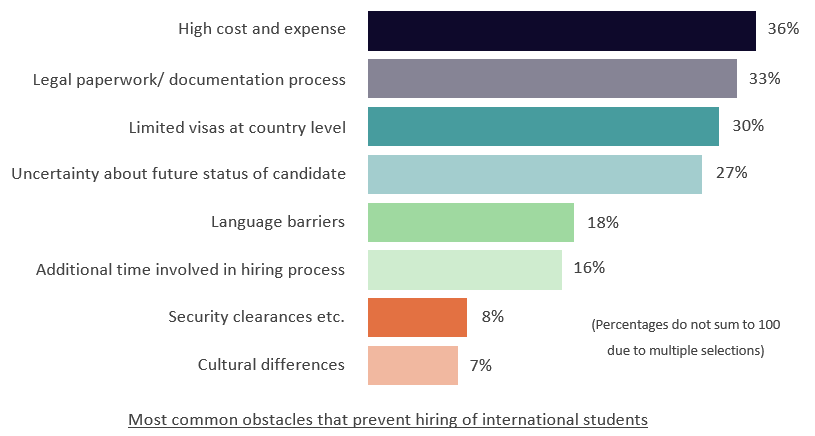 Source: GMAC Corporate Recruiters Survey, 2015
However, all things equal, some schools do better than others in placing their international graduates. And, as an international student, if you find that the gap between the recruitment stats of those with work authorization and those without (which, by and large, means international students) is large, you should dig deeper to understand the reasons behind.
So, where do you find this recruitment data?
Where to find data on recruitment of students without work-authorization?
You can find this data for most B-schools in their annual employment reports.
You may either Google the search string 'school name + employment report + 2015' or visit career service page of the school's website to find this report. Here is how you can search for Chicago Booth's employment report for the class graduating in 2015.
(Schools typically release employment reports in October or later for the class graduating that year. So, if you're looking for the report in June, 2016, you can access it for most schools for up to class of 2015. Always look for the comprehensive version, usually a pdf with 15+ pages, and not the snapshot.)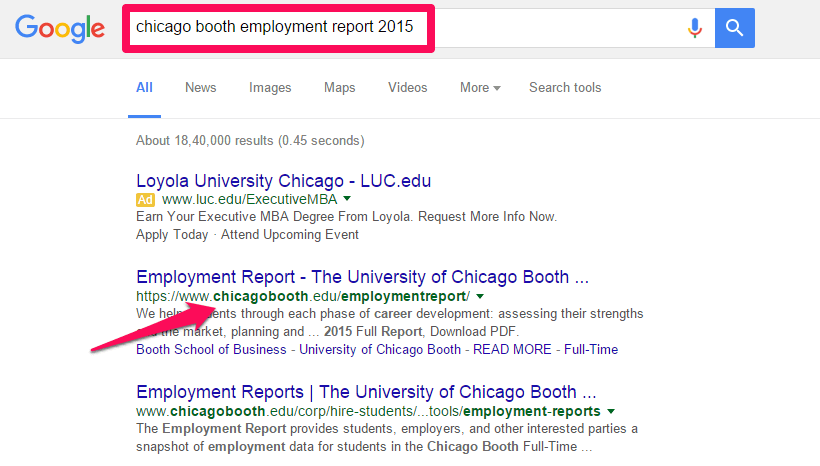 Once on the employment report, look for section on job offers and job acceptances under full- time industry-wise employment.
(Note: function-wise data can be misleading for some industries. For example, you'll rarely find an MBA graduate getting into technology function, because MBAs typically don't build technologies, don't do engineering stuff.)
This section will have data broadly in the following format:
Some reports may provide this data in percentage, some in absolute numbers, and some in both. And some may just give it a complete miss.
Let's look at this data from the perspective of three different degrees of disclosure.
1. Full disclosure: Chicago Booth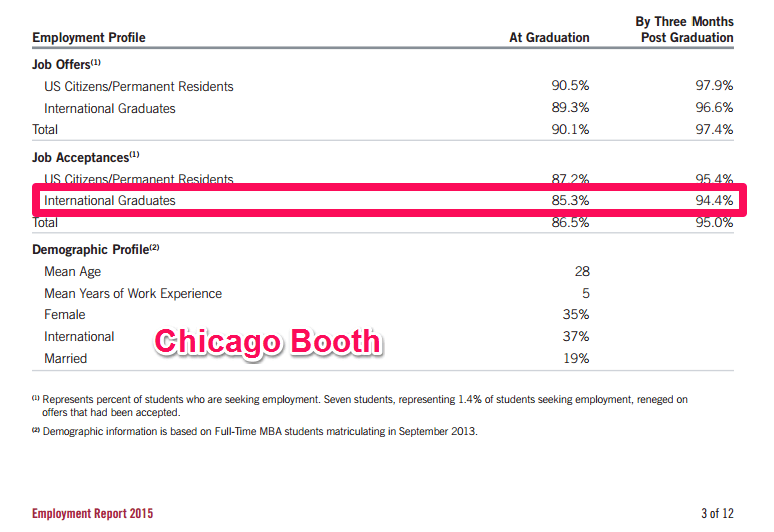 Source: Chicago Booth employment report, 2015
For Chicago Booth, there isn't much difference between job acceptance rates of U.S. citizens/ Permanent Residents and International Graduates three months after graduation (95.4 percent vs. 94.4 percent), which indicates healthy recruitment for international students.
(Note: Job Acceptance data is a more robust statistic than Job Offer. Also, data three months after graduation gives a better picture as some students recruit full-steam only after graduation, especially those who recruit for non-traditional industries & functions, for niche areas, and in distant geographies (home country, for example).)
2. Full disclosure, but meaningful data is buried behind other numbers: UCLA Anderson
UCLA provides this data on two different pages in its employment report:
and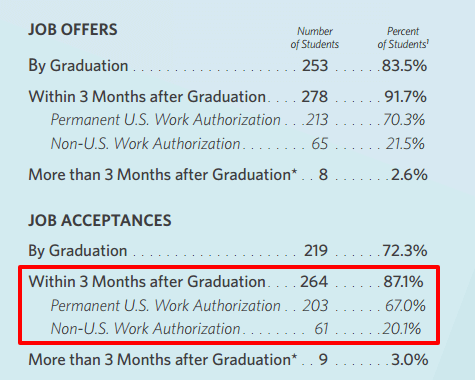 Source: UCLA employment report, 2015
If you want to get the desired percentages, you need to do bit of jugglery with the numbers:
In the class of 2015 at UCLA, 303 of 351 students sought employment. And out of 303 who sought employment, 264 accepted job offers within 3 months after graduation.
Distribution of those who sought employment (303):
Distribution of those who accepted job offers (264) within 3 months:
From the data in the last two equations, if you calculate the percentages, you'll get following:
There is substantial difference – 11 percent is substantial – between the job acceptance rates of those with work authorization and those without it, which isn't obvious from the raw data presented in the report. For the class of 2014, the difference was 10 percent.
3. Non-disclosure: Columbia Business School (CBS)
Source: CBS employment report, 2015
CBS provides only overall data, but is silent on the split between students with and without work-authorization.
What's in it for you?
If you're an international applicant, expand your criteria of selecting target schools beyond ranking, brand equity, geography, fit, and overall placement. Also consider how a school fares in placing its international graduates vis a vis those with work authorization.
If this data is missing or is hidden behind wall of numbers, find it, as, sometimes, there can be an attempt to present a rosier picture, IMD being a case in point.
You can take following steps to be certain about where you're stepping:
1. Go through the last three employment reports (to have a broader set of data) of each of your target schools.
2. Look at the job acceptance data three months after graduation for international/ without- work-authorization graduates. If this data is not available, ask for it (email/ call) from the admissions office. You shouldn't flinch from asking for the data even if the school is highly reputed (in the examples mentioned earlier, you should shoot emails to CBS). After all, it's your money, your time, and your career that will be at stake.
3. Does the job acceptance of graduates without work authorization lags substantially (8-10 percent or more) behind those with work authorization? If yes, and if it's a pattern or if it happened in the latest report, then it's a cause of concern.
4. If it's a cause of concern, then ask the admissions/ career management office about the reasons for it. Well, it could just be that higher proportion of international students at a particular school pursue(d) non-mainstream career opportunities (say, start-ups, which are relatively difficult nut to crack for international students), which often are harder and take longer. Bottom-line: whatever the underlying factors, you should know them and evaluate if they will affect you or not.