Acceptance rate and yield of an incoming MBA class are considered two of the most authentic parameters reflecting the popularity of a program. But even they need to be sometimes interpreted with caution, or else you might arrive at erroneous, even surprising, conclusions.
For the uninitiated, let's first briefly touch upon what these two terms mean before we proceed further:
Acceptance rate
Acceptance rate of an incoming class of an MBA program is the percentage of all applicants who are offered admission.
Yield
Yield of an incoming class of an MBA program is the percentage of accepted applicants who join the program. (Not all applicants join the program in which they are accepted.)
Click here to learn more about the two.
Here are the four reasons (two each for acceptance rate and yield) why they may, in some cases, not tell the entire story about the popularity of a program.
(Note: Admission policies of schools and guidelines for standardized tests can change. Refer to their website for the most updated information.)
Acceptance rate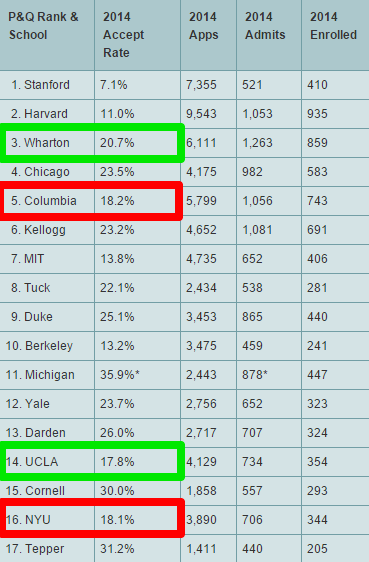 Source: Poets & Quants
1. Schools in and around big cities and more livable areas (Example: Schools in New York City, Boston, and those in California) tend to attract more applicants than those in other regions, and, therefore, these schools tend to have lower acceptance rates (acceptance rate decreases with increase in number of applicants).
2. Two schools with similar acceptance rates are not necessarily equally tough for you to get in, because their applicant pools may be different in terms of competitiveness. This is because applicants generally tend to apply to schools where they've better chance of admission, and hence higher-ranked schools attract more competitive applicants. For example, Columbia (18.2%) and NYU (18.1%) have similar acceptance rates, but Columbia is tougher to get in because its applicant pool is more competitive than that of NYU. For the same reason, it's tougher for you to get into Wharton even though its acceptance rate is worse (higher) than that of UCLA.
Yield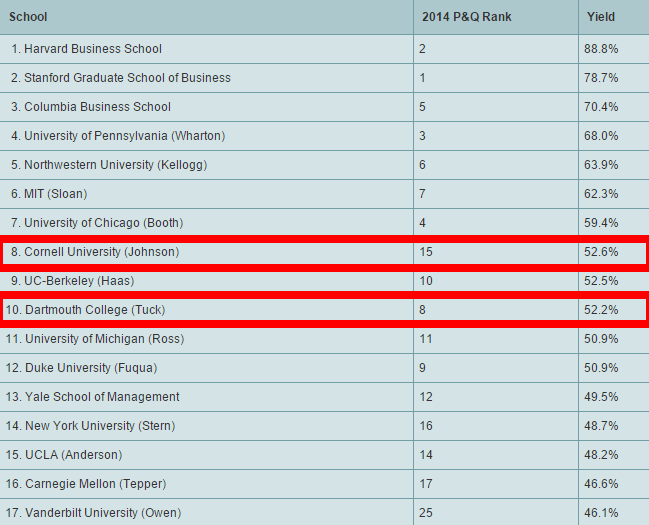 Source: Poets & Quants
1. Yield tends to be more relative to cluster of similarly placed schools (in terms of popularity) than to all other schools. For example, HBS competes much more with Stanford (and vice versa) than with any other school for enrolling its students. Similarly, Ross competes more with Fuqua and Darden than with Wharton or Columbia. Thus, these small groups of similarly-placed schools form clusters which compete more with each other than with other schools outside the cluster for enrolling its MBA class. That's why yield of, say, 65% in a cluster with constituents of higher brand-equity carries more weight than similar yield of a school in a cluster with constituents having relatively lower brand-equity schools. That's why Tuck's yield (52.2%) is more impressive than that of Johnson's (52.6%). In general, a higher-ranked school's yield outweighs a similar yield of a lower-ranked school.
2. Sometimes, yield is proactively managed, and in few cases even external factors can influence it. For example:
Some schools, as a policy, can be more intentional in accepting those applicants who show specific interest in joining their program. They may look at how actively you've engaged with the school through the admission process, including the quality (personalization) of your responses to questions such as why join us in essays and/ or interview. Some schools, in fact, even use specialized software such as Talisma and Slate to monitor engagement level of applicants.
Some schools use their financial resources, and rightly so, to lure applicants through fellowships. And it's not just schools with fat endowment funds who indulge in this warfare. Others too. And it works. That's the most important reason why such a significant proportion (22%) of even dual admits to Stanford and HBS enroll in a different school.
Some schools have natural, unique advantage(s) which help their yields. For example, INSEAD being a top one-year-program attracts a more niche pool of applicants who are more likely to enroll because there aren't too many options for a quality one-year MBA program.
Similarly, schools in locations home to specific industries (Texas and Alberta (Canada) for oil & gas industry) or ecosystems (entrepreneurship on the West coast in U.S.) attract more focused applicants who are more likely to enroll.
Conclusion
Acceptance rate and yield are two important admission statistics which reflect popularity of a program, but they need to be interpreted with caution.