If you've just started to think about a business degree, then you may get confused by plethora of options offered by B-schools these days.
There are myriad of MBA programs (full-time two-year, full-time one-year, part-time, flexible, online, executive, and joint degree) and specialized master's programs (accounting, finance, management, marketing, international management, supply chain management, data analytics, and so on) to choose from.
Of these, which are more preferred?
Here are some of the findings of 2015 mba.com Prospective Students Survey, a product of Graduate Management Admission Council, the owner of GMAT:
(Note: Admission policies of schools and guidelines for standardized tests can change. Refer to their website for the most updated information.)
Preference: MBA vs. Master's programs
78% (52% + 26%) of prospective students are considering an MBA program, whereas 48% (22% + 26%) are considering a specialized master's program.
In 2010, 54% of prospective students were considering only MBA programs, 14% only specialized master's programs, and 32% both. There is a distinct shift toward specialized master's programs in the last five years, though MBA programs still command major mind share of those considering a business degree.
Preference of those who are considering only an MBA program
Of those who are considering only MBA programs, there isn't much gap between their consideration for two-year and one-year full-time programs.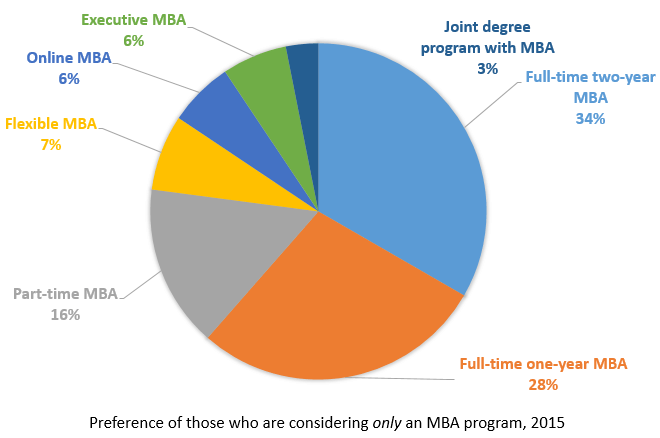 Preference of those who are considering only a master's program